Another week is upon us! Hope everyone had a great weekend. Here are my random musings for today. Enjoy!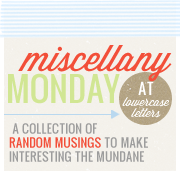 ONE.
I don't think I have ever really eaten mayo. Sounds crazy, I know. I don't eat macaroni or potato salad or even tunafish. No wonder I have a child who is a picky eater. Anyway, I was on the computer looking up home made hair masks the other night and came across a bunch that contained different household ingredients. So yesterday I decided to slap a jar of mayo on my head. I have to say, the smell on my hands and hair almost made me sick. But after 20 minutes, my hair was so soft and shiny. Go MAYO!!
TWO.
Taking two kids shopping in Target is never fun. And it is sad, because I love Target. I could spend hours in there. But my trips are cut short because the kids don't last that long. Well, as we shopped yesterday, Christopher decides he needs to pee. No, he couldn't hold it and he forgot to go before we left the house. Typical. And I am sure you know that you cannot take a shopping cart into the restroom. So, we go over to the restroom and I stand with the door open so I don't have to take Anthony out of the cart. I let Christopher go in the first stall. I watch him, he goes, washes his hands and we are done. Well, wouldn't you know, 5 minutes and 3 aisles later, he now has to poop. The child has never pooped in public. Ever. I ask him if he really has to go. He says yes. He really, really has to go. Now we head back to the restroom. I have to take Anthony out of the cart this time because Christopher can't go in to poop alone. We all go in, get him set up and I am waiting. Nothing is happening. He turns and looks at me and says "Mom, I was just joking." Ever want to strangle your child : )
THREE.
I met my first blog friend in real life. Well, via webcam. My BFF
Allie
has a great site that I came across months ago. We seem to have a lot in common and email regularly. She is an amazing crafter and seamstress. I am sure you have heard me talk of her before. Well, we decided to Skype on Friday. It was only for a few minutes because I had to go pick Christopher up from school. When I was thinking about it, it is kind of random. You can meet someone out in cyberspace and then can see them sitting in there living room half way across the country. Technology is amazing. But is goes to show that out of blogging you can meet some great people and make real friends : )