TGIF!!! I hope everyone had a great week. We are already in weekend mode here. The kids wanted their pj's on yesterday when they got home from school (yes, at 3:30pm) so they could 'lounge around'…..lol! I have a feeling it is going to be a lazy kind of weekend and I am fine with that!
I wanted to share a project that I had made for Christmas. My 2 cousins each have daughters that are 'tweens' and they are true fashionistas. Although they do love sports, they love bags and clothes more. Around Thanksgiving they had each asked me to make purses for them. And of course, they put in a hand written request with colors and design ideas. Too funny.
The girls each wanted a white fabric with colored polka dots. And while one wanted flowers, the other wanted peace signs. I took a trip to JoAnn's and of course, no white polka dot fabric to be found. Really Joann's?? I did find a black dot and that was just going to have to work.
To make life simple, I made the bags the same shape. One would be a messenger and the other a shoulder strap bag. Yes, those were my instructions….lol.
Here is what I came up with for the should strap bag….
I embroidered the letter 'K' as her name is Kaylee. I just did a zig zag stitch with my sewing machine. A few hand made flowers and some ruffle added some youthfulness to the bag. I had never used a shoulder strap before, but it was pretty simple to attach. There is a snap closure for easy access to open and close.
The second bag was a messenger style…..
Here I made a peace sign out of felt and sewed it on the front. A hot pink ribbon finished it off. Again, a snap closure.
Both bags looked the some inside with hot pink lining and a pocket…..
I gave the girls the bags as part of their Christmas present and they were ecstatic!! My hard work paid off.
Here is Alexa modeling her bag….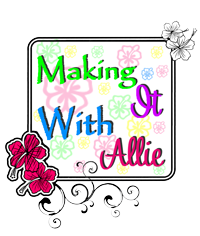 Have a great weekend….