Welcome friends. Hope everyone had a great weekend. Ours was nice...we had a Halloween party Friday night (will post about that tomorrow) and the rest of the weekend was kind of relaxing. No plans...just go with the flow. Anyway, here are a few of my random thoughts today.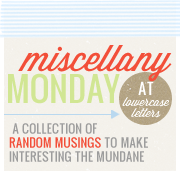 ONE.
How is it that most kids have more money in toys than I do in my bank account? We have been trying to clean out the kids bedrooms and playroom to start getting ready for Christmas. More toys. I swear, these kids need nothing. Every nook and cranny of every room has toys. So, please readers, if you were planning on shipping my kids a Christmas present from across the country, don't!
TWO.
This is random. But why I have I noticed that so many bloggers are Mormon? If any of my readers are (other than you Allie..LOL), please let me know. I am truly interested if there is something about your religion that makes you want to blog more and be so darn crafty!
THREE.
Halloween is this week. Yeah...the kids get so excited about getting to wear costumes outside. As if you don't know, Christopher wears costumes everyday, all day. But he obviously doesn't get to wear them in public. I still haven't gotten one for Anthony yet. Oh, and I made mine. I will be posting it later in the week.
So, I will leave you with Christopher and his everyday dress-up.....