Hello blogland! Hope everyone had a great weekend. It is Monday and that means a few random musings. This Monday thing really cracks me up...do you all really care about the silly things that go through my head sometimes? Well, in case you do, I am going to share :)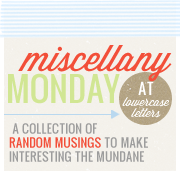 ONE.
My dishwasher stinks! Literally. I wash every dish, cup, fork, knife, etc. by hand before I put them in the dishwasher. I really don't know why I even use it because the dishes are clean when they go in. But for some reason, it smells. Now, it is not from rotting food because there is no food on the dishes. I swear, when I open it up, I gag. I have cleaned it a million times and it still stinks. Am I the only nut with this problem. BTW, I know you are thinking maybe it is time for a new one, but it is not even a year old!
TWO.
Is this a Justin Bieber in the making or what??
THREE.
The weather here stinks. Last week it rained most of the week. And as I am sitting here writing this I am watching the weather and it going to rain for the next 3 days!! You would think I live in Seattle and not New York :)
FOUR.
What is the world coming to when they are selling 'The Situation' costumes for Halloween? The Jersey Shore has taken over!!!!Does anyone else think that this is ridiculous?
Have a great Monday : )