Okay...it is the start of a new week and just 19 more shopping days until Christmas!! Yikes...time is flying by so quickly. I have so much to do...I shouldn't even be on the computer...LOL! Presents to buy and wrap, decorating to finish and cookies to bake..oh, my! If anyone knows any elves, please send them my way. I could really use them about now. On to some randomness for this Monday.....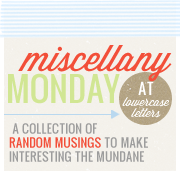 ONE.
My life just may have gotten alot easier!! Over the last few days my little Anthony has peed on the potty 5 times!! Yes, you heard me right. He just turned 20 months and I think we starting to train already. This is a miracle. Christopher was pee trained by 3 and poop by around 3 and a half. Yes, I guess boys are later. But if Anthony is serious about this, I will be in heaven. He watches Christopher go and tells me 'potty'. I really didn't want to put him on there thinking it was a waste of time. But I figured let me just do it and see. Of course there are plenty of times I put him on there and nothing happens, but then there have been the few times that he went. It is actually really cute to watch him do it since he is so little. I am hoping that this continues. So, thank you Elmo potty seat.
TWO. I had a little bit of a mental breakdown over the weekend. I think that just feeling so overwhelmed with the Holidays and just everyday life, I needed a good cry. My hubby, just like most, can sometimes get on my nerves. And the kids can get to be a handful too. It is alot. I have to say, being a SAHM, is way harder than I ever thought it would be. It is mentally and emotionally draining sometimes. Life was much easier when I got up, go dressed and hopped on the train into NYC and went to work : ). I think that sometimes we start to lose who we are as a person and get caught up in the wife and mother role. So, I am going to try and just put it in perspective and work on not getting so stressed about the little things. I am very blessed with a happy and healthy family and that is all that matters : ). Please, someone, remind me of that again in a few days.
THREE. Well, there is no stress that can't be cured with a little shopping. As I was buying some presents for others, I saw these really cute rain boots from Coach. Do I really need rain boots? No. But what the heck, it is Christmas and I deserve it. They were on sale for $59 and I had a 25% off coupon!! How can you beat that??