Happy Monday bloggy buddies! Hope everyone had a great weekend and got some shopping, wrapping, baking or crafting done. I have to say, I did not do much myself. The hubs went away Friday night and came home late Saturday night so it was just me and the kiddos. We kind of just relaxed and spent time together. We were going to get our Christmas tree on Sunday when Chris was home, but it rained the entire day. And it is supposed to rain Monday and Tuesday. Are we ever going to get a tree???
And now for a few random musings....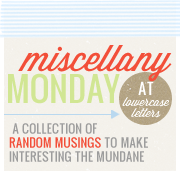 ONE.
The rocker. I actually spoke of my rocker a few weeks ago and named it as one of the places in my home that I am most thankful for. It is where I have spend many a nights and made many a memories with both of my boys. Well, the rocker has been putting me to sleep. Literally. These last few days when I am sitting with Anthony to put him down for a nap or at bedtime, I fall asleep. Even if it is for 2 minutes, I can't seem to keep my eyes open. Am I just that exhausted?? I can see now why my kiddos have always loved to sit in it : )
TWO.
Do I look like a bad mom? Do my kids look like they are neglected? Why is it that strangers find it necessary to comment on my parenting skills? Seems like this happens to me quite a bit. Over the weekend we were on line at Michael's and the kids were asking for candy (of course it is so strategically placed at the cashwrap). Anthony was picking up every one and could not decide what he wanted. The woman on line behind me says "don't buy him the Skittles, they are bad for your teeth. Too much sugar. You should go with the chocolate." I just looked at her. Who the heck are you lady?? I will buy my kid any kind of candy I want. Mind your business. And the kicker is, her teeth were horrible....I think maybe she had eaten too many Skittles!!
THREE. I am having one of those months. A month where you just can't stand the way you look and you hate your hair. I am going to let it grow out and this in-between stage is just horrible. I either like my hair really long or really short. I am not one that is attached to their hair. I can cut it any way or color it any color and I am always open to something new. Change is good. So, I think I am going to have to do something with the color since I really don't want to cut it. Maybe pink?? Could you imagine...the hubs would die...LOL! I will let you know what I decide.
Have a great day...