Another busy day today...Christopher is starting swimming lessons. This should be interesting. So my musings for this Monday are going to be short and sweet.....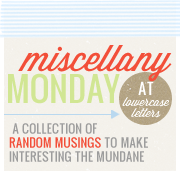 ONE.
Are there ever times when you just want to punch someone in the face because they are so annoying?? I felt that twice this weekend. Thank God I am a lover and not a fighter..LOL!
TWO.
My Anthony is such a terror.....but so cute that I think he is going to lead a life of crime and get away with it. And why do my children know that when they do something wrong...they try to hide??
THREE. I have realized that after having 2 natural childbirths, your body will never look like it did before, no matter how hard you try. I guess all of these stretch marks are a 'labor' of love!