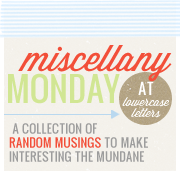 Okay...I am a slacker. It is 9:45pm and I am just sitting to write my "Miscellany Monday" musings. Why the heck am I bothering??? We have been so busy everyday that I feel like I have no time to actually sit and think straight. And I was supposed to post my 'crafty' project today, but it is going to have to wait until tomorrow. Anyway, here are my nonsense thoughts....
ONE.
Why is it then you set out to have a nice day with your kiddles at the beach, do they insist on being cranky and whiney and you want to strangle them?? Sometimes I think we do too much for our kids that they start to unappreciate it. Or, are they just being a 4 year old and a 1 year old and I am just PMS-ing?
TWO.
The Target employees take any coupon that you give them, even if you are not buying the product. Is this something new or do the employees just not care??
THREE.
I think that having children is the best thing in the world, but it truly does put a strain on your marriage. The stress, lack of sleep and craziness might as well have put my hubby and I on different planets. Will we ever get back to where we were prior to kids??
FOUR.
Why do some bloggers openly say that they have no time to read other people's blogs? Isn't that rude? I try to read as many posts as I can. I also try to leave comments often. I feel like I leave comments on certain blogs and I never get comments back from them. Would you stop reading??