Hello All...hope everyone had a nice weekend. We did...filled with lots of outside activities. The weather has been so hot here....you have to either stay inside or be submerged in water. I am so not liking it....it does nothing for your hair either. Anyway, here are my random
Miscellany Monday
musings. Enjoy!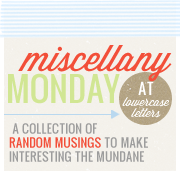 ONE.
Our kids will never experience the thrill and excited of waiting anxiously for the ice cream man since now you can 'text' him your address and he comes!! Isn't that crazy?
TWO.
I have come to to the conclusion that my life with two boys is going to be forever like a wrestling ring and I will be the referee. I am just going to tape my voice saying "stop hitting him," "stop jumping on his head," "stop poking him in the eye." Is there a CD I can just buy with all of the things we find ourselves saying? If not, I am patenting one now!!
THREE.
I was at the park the other day and met a woman who also had two boys. The looked alike so obviously I asked if they were twins. She said no that they were 15 months apart, born on the exact same day. Her older son was 3 months when she got preggers again. Who in their right mind is even having sex with a 3 month old baby??? Wow...I know I wasn't!! Better her than me....
FOUR.
I too, like
Carissa
just chopped off a good 10 inches off my hair. Carissa - we have the same new hairdo and I am officially missing my ponytails too : )