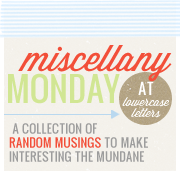 This is my first 'miscellany monday'....not sure how many miscellaneous things you need to know or want to hear.
1. Why is it that no one has come up with a ziploc bag for inside the cereal box?? My little Anthony now has a habit of going in the cabinet and taking out the cereal. And of course....it all ends up on the floor. You ask why is the cabinet not locked...ask my hubby. We remodeled the kitchen last year and he doesn't want to 'screw' anything into the new cabinets. So, instead we will spend money everyday to buy new boxes of cereal : )
2. I have no idea why people insist on going shopping and not putting the cart back in the 'cart parker' in the parking lot. I went to Target yesterday and this annoying lady put her cart right in back of another car when the cart parker was 5 feet away. Now that person is going to have to move it to get in their car. I gave her a dirty look...I was going to say something....but it want to start a fight : )
3. My darling boys.....why when they are driving you insane do they give you the cutest look???
4. I have an obsession with polish on my fingers and toes. As soon as I see a little chip...I need to take it off and re-do it. Is that OCD??