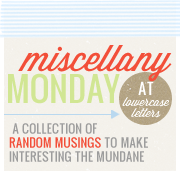 Wow...it is Monday again. Last week I participated in Miscellany Monday hosted by carissa at
lowercase letters
. I kind of like the randomness of this whole nonsense post. So, here are my bits of 'miscellaneous' ramblings.
ONE.
Why is it that when a you are enjoying an activity with your children (i.e. - playing with a bucket at the beach), does an older stray child wonder over and start to annoy your toddler?? Is that mean to say? My Anthony was playing nicely at the beach yesterday with a bucket and this little girl came over and grabbed it out of his hand telling me she wants to play with it. I am all about sharing, really I am, but don't grab and where is her mom?? I took the bucket and she was literally yanking it out my hand. This went on for 5 minutes. Moms, please watch your kids and teach them some manners.
TWO.
There should be a law that moms are not allowed to 'work' past 8pm. Are there 'mommy laws' like child labor laws? Some senator somewhere should bring that to Congress!
THREE.
I love to eat classic vanilla icing right out of the tub. I made cupcakes for Christopher's T-Ball team and I practically ate the whole container of icing before the cupcakes were out of the oven. That is problem.
FOUR.
Last week a few blogs were doing 'wedding posts.' I am just curious....as a New Yorker, we tend to spend way to much on weddings and give way too much money as a gift. I am talking anywhere from $200 - $500 depending on how close you are to the bride and groom. What do other states give as wedding presents?