Good morning Monday! Hope everyone had a great weekend. Ours was kind of quiet since the weather was horrible. It rained and was cold. How does it go from 98 degrees and hazy, hot and humid to downpouring and 55 degress?? I will never understand the weather systems…LOL!
I figured it has been awhile since you have heard m
e babble some of my random thoughts. So today is as good a Monday as any to participate in Miscellany Monday….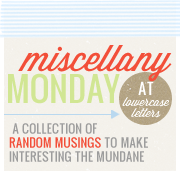 ONE.
One day last week my husband came home with these…
It was nice to get flowers for no reason. It has been awhile since that happened. With two kiddos, my husband's long work hours and life getting in the way, it was nice to be reminded of how things were many moons ago when we were newly in love…LOL!
TWO.
Christopher has only 2 more days of Pre-K left and then his 'graduation.' I am excited to see what the kids will be doing. He has tried to keep it a surprise but every now and then he slips up and starts to tell me about a song or two they will be singing…LOL! All I know is that time is flying and I want it to stop : )
THREE.
Ok…are we the only family that eats ice cream or Italian ices everyday in the summer?? I swear, as soon as the weather warms up, my kids become ice-cream-o-holics!! It doesn't help that this guy comes around about 3 times a day….
FOUR.
I will sum this story into the abbreviated version. We had new neighbors move, a younger couple that seem to like to party. I have barely spoken to them, but heard through the grapevine that they are getting married soon. Well, the the other night we went for a bike ride with the kids around the block. We see the man moving all of his belongings out of the garage an into his truck. He had a few friends there and they were all taking stuff and packing their cars up too. My husband says to me 'something shady is going on there.' I always try to see the good so I am thinking that maybe they are having some work done on the house and they need to move a few things. The next morning I see the girl outside on the phone and she is yelling. Of course I have to go on my deck and see that is happening. I call over to her and ask her if she is okay (she probably thinks I am crazy since I have never spoken to her before..LOL). Well, she was at her final wedding dress fitting the day before and when she came home, the house was completely emptied and her fiance was gone. No note, no phone call, nothing. He took it all. Can you imagine??? They were supposed to be getting married next week. I called the hubs to tell him he was right…there was something shady happening that day!! I am sure there is more to the story that we will never know, but I can't help feeling terrible for her. I swear, men can sometimes really stink!!! It makes me glad I am an old married lady : )