Hope everyone is off to a good start this week. It is supposed to be warm here today….so my good mood is in the hopes that the weather man is correct. We had a very busy weekend, as usual. I haven't done a Miscellany Monday post in awhile, so figured today is as good a day as any to do some rambling.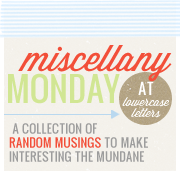 ONE.
I took the plunge and came in to the age of technology. The hubs and I got these over the weekend….
Now I think I need to take a college course if how to use it. It is amazing what phones can do. I am sure I am not going to be using half of the features, but it is fun to play around. I am a little scared though….seems like people can track anything about you from these phones!!
TWO.
Spring is officially here…..I know because T-Ball has officially started for Christopher. We had a few practices already and this past Saturday was the opening day parade. The kids picked the name 'Superhero's' which we all thought was cute. At Thursday's practice some of the mom's thought it would be fun if the kids wore capes in the parade….you know, to go with the name of the team. So, being the nice person that I am, I decided to volunteer and make 10 capes the night before the parade!!!
Of course I needed to make Anthony one too!
The kids looked great and they all had a blast. We are looking forward to a great season!
THREE.
On a sad note, there was a terrible accident right near our house over the weekend. Supposedly a woman and her hubs were fighting, she left in her car and the hubs was chasing her. She crashed into a parked car going 120 miles per hour and then swerved and hit a gas pump. Needless to say, she died instantly.
It just got me thinking about how short life really is. There were probably arguing over something so silly and look how it ended. I am promising myself to not sweat the small stuff and to put things in perspective. I say that today until my kids are driving me crazy tomorrow…LOL!
Have a great day everyone…