Ah…the weekend continues today as we celebrate the holiday and the kids are home…AGAIN!! Between the snow days and the holidays the kids are home more than they are at school. Geez!! This weekend the hubs was away for work from Thursday through Sunday…..so it was a little overwhelming being with the kids non-stop. I give a lot of credit to single parents….it cannot be easy. Anyway, here are some random thoughts that came from my weekend….enjoy.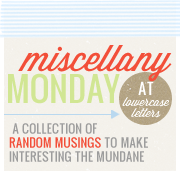 ONE. Ok....let's talk about "HTML" codes for a second, shall we. Who in the heck decided to make it so darn annoying to figure out??? It is like reading Chinese. As you can see, I tried to give myself a little bloggy facelift over the weekend. I thought a change around here might be nice. Well, needless to say, hours upon hours later, I still have yet to completely understand the mumbo jumbo of HTML codes. So for now, what you see is what you get. I have lots of respect for my fellow design bloggers, like my buddy Shannon, who have figured it out and now are designing for others. I may be calling you in the future!!
TWO. I took Christopher to his trial 'acting' class on Saturday. I really was not sure what to expect. The kids are only 5….how much acting are they really going to be doing? My kid can't remember what he ate for breakfast, nonetheless remember lines?? But I was rather impressed. They watched the Wizard of Oz and started to learn the song. Apparently they are going to be making the yellow brick road and doing a little scene from the movie. After class Christopher came out yelling "I am going to be the tin man!" He was so excited. He now thinks that 'acting class' is going to be replacing Pre-K!! So, I wonder, do you think Brad Pitt ever played the Scarecrow??
THREE. My husband's cousins had their little baby girl this weekend. Little Zoey came right on her due date. I very rarely hear of that happening. Anyways, we went to see her last night. Wow….I forget how small babies are. She was too cute. It made me sit and reflect on my births and how lucky I was to have 2 easy labors. Here is my thing though. The mom who just gave birth did not want her hubs 'looking' down there when the baby was going to be born. She ended up having a C-section so it wasn't too much of an issue. But I thought her comment was a little weird. Who would want to deny a man of watching the birth of his child? My hubs was down there, practically delivering my kids. When you are giving birth, there is no shame. You don't care who is looking. At least I didn't. And let's be real, it is never going to 'look the same' down there after you have kids. And it is not like your hubs is never going to see your private area again. I guess we all have different thoughts...even on our 'crotch'....and that is what makes the world go around!!
Happy Monday!