Welcome bloggy friends to another edition of Miscellany Monday. Wow, seems like I haven't participated in one in a while. Hope you all had a lovely weekend. And now for a few of my random musings….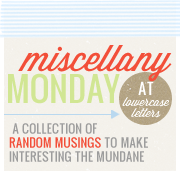 ONE. Love. How much of it do you have to give?? The other night the hubs and I were just hanging out with the kiddos and he looked at me and said 'I never thought you could love two kids this much.' I just looked at him and replied 'did you think you were not going to love Anthony as much as Christopher?' It started a whole conversation. I guess you don't know how much love you have until you have a second (or third, or fourth, etc…LOL) child. And that love it unconditional and stronger than any love you have ever felt for anyone.
TWO. Okay…so maybe I lied. I can love something just as much as my kids. And this is it….
The REMINGTON Wet to Straight Flat Iron
A friend told me about it and she said it worked wonders. Who would believe that a flat iron could dry and straighten wet hair at the same time? So, for the $25 (at Bed Bath and Beyond…plus you use your 20% off coupon) that is cost, I had to try it. And I am so glad I did, because I am in love!
THREE. I, like most of you, am now in the cleaning and organizing mode since the start of the New Year. It feels so good to open a draw that is not cluttered. To open a door and not have 'stuff' falling in your head. How in the world to we accumulate so much junk? My resolution is not just to clean and organize, but to 'maintain' the work I am doing. So, keep posting the really great tips on organizing. It is totally keeping me inspired.
FOUR. Yesterday I was lucky enough to have a few hours to myself. I found a sewing store that has 'open sew' on Sundays. You can bring your machine and just utilize their tables, irons, etc. to sew quietly. I knew I wanted to try it. There were supposed to be people on staff to help you out with any questions you had. I walked in to find a few ladies that looked like this….
The sweetest bunch of old ladies you would ever meet. But, is sewing not for the young?? Is it only in NY that old people are the only sewers?? I am glad I went. These old broads taught me some great new tricks!!