Happy Valentine's Day….
Today is Valentine's Day and I hope that everyone is spending time with the one's that they love. Take the time today to kiss your kids and kiss your husband. Tell them you love them over and over. Spread the

love

…it is all that we have that will ever truly make us happy.
Okay….now on to some random musings for this Monday…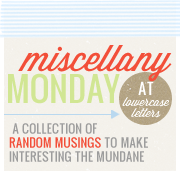 ONE. I have come to the realization that I am totally out of touch with pop culture. I watched part of the Grammy awards last night and I had no idea who half of the artists were. What happened…I used to be cool?? I did realize that I 'miss' listening to music though. Since becoming a mom, I have stopped doing so many things I love….I am going to make an effort to change that : )
TWO. Why is that God made boys wild?? I let Christopher spend some time this weekend with his older boy cousins. He had a blast. But there wasn't a moment that I wasn't getting hit in the head with Nerf darts or breaking up a wrestling match. I think I am in for many a trips to the ER as my boys get older!
THREE. Life would be awesome if men could experience PMS. Even just for one day. I was never a gal that was ever really moody before, after or during my period. But since having Anthony, my hormones have a mind of their own and I turn into someone else. I wish I could control it, but I can't. I wish the hubs would understand. But he doesn't. Can't God make a change, come on, let the men have equal rights!!
Happy Monday…