Happy Monday!! Hope you all had a great weekend. We are now back on track….school is in session and we are following our daily routine once again! And as part of our weekly routine…..here are my random musings for this Monday.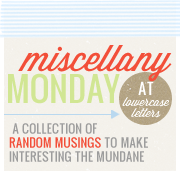 ONE
.

The highlight of our weekend came on Saturday. I think I may of mentioned that we enrolled Christopher in 'acting' class. This child dresses up all day long. He has an incredible imagination and we just thought it might be fun for him. And we were right….he loves the class. Well, this weekend his class did a little performance of the Wizard of Oz. A few weeks in to the class he came home with a 'script' (hello…he cannot read…LOL) and we practiced his lines as the Tin Man. He knew every line but I wasn't sure how he was going to do once he got up there….but he was awesome. I was so proud : )
TWO

. I have come to the conclusion that I was born a klutz and will always be a klutz. And unfortunately I have passed this trait on to my child. I must drop or bang something once every five minutes and Christopher is the same way. I am now starting to realize that so much time is taken out of my day due to the spills and messes we create that need to be cleaned up. Is there some meds I can take to make me less klutzy and more classy?? LOL!
THREE

. Tonight we are picking up our new car…yeah!! Can you guess which one of these we are getting??
Happy Monday…