With my newly engaged sister starting to plan her wedding, I knew I wanted to make her a few gifts. So, for the engagement party last weekend, I put together a little package in addition to the 'money' we gave her. We all know newly engaged couples want money to use towards their wedding…LOL!
There are so many things that I want to make that I had a hard time narrowing it down. I wish I had more time to spend crafting, but I don't, so I chose three different items for now. Everything else will have to wait for the bridal shower and the wedding.
Today I will show you the 'Bride' flip flops that I made. I have seen some really cute one's on Etsy that helped me to figure out what I wanted mine to look like.
Here are the completed flip flops…
My good friend Silhouette helped me to add the word 'Bride' in vinyl….
I wrapped some what satin ribbon around the sides with glue. Then I used my Hot Tools to add some bling. Every bride needs bling…LOL!
The flower was a new 'burning' technique that I tried. You cut your fabric into circles and then 'burn' the edges with the tip of a candle. I liked how it came out, but it probably would be better on a different colored fabric as the burning on the edges made it look a little dirty…LOL! And finally I added a cute embellishment to the center.
Lastly, I tried them on to make sure they looked cute :)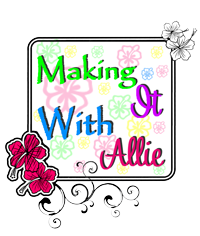 Have a great weekend!