Happy Friday!! I swear, the days and weeks are flying by. I look at the clock and it is already 9pm before I know it. The summer really does keep us busy.
Part of the reason we are so busy during the day is that we are always here……
My kids love the park!! They are could go everyday and spend hours there. That is the reason that I have not invested in swingset for the backyard. My kids love going to different parks and we are fortunate enough to have a lot of great parks in the area.
But, when I go, I never sit still. I am chasing Anthony all over the place. With that said, I really do not need to take the stroller, but I do need something to carry a few of the essentials. I always need drinks, wipes, my wallet (because the ice cream man always so conveniently shows up at our parks..LOL) , my phone and a little snack.
I knew I need to make myself a 'park' bag. Something that would go across my chest and be small, but big enough to hold the essentials. Here is what I came up with…..
I used denim since that will 'go' with almost anything that I am wearing. I knew it needed a little something, so I stenciled on the butterflies. I still think it needs something more but haven't decided what that is yet : )
The bag has a fun summer print on the inside with 2 pockets.
It is perfect for our trips to the park!!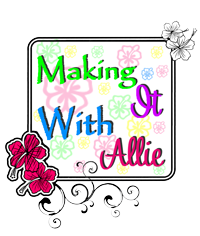 Have a great weekend!!