Hello friends : ) Hope everyone had a great weekend. We have a million things to do today and of course the weather is raining and nasty. So this post is going to be short and sweet. Here are some of my random musings for today...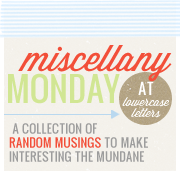 ONE.
Who in the world thought to change the clocks forward and backwards??? All I know is that my kids and I are all off schedule. It is going to take a week for us to get it together...LOL! Why can't it just be light out until 8pm all year round??
TWO.
Next, why is it that childrens medicines all taste like crap?? Anthony has an ear infection (that is a whole other story) and a sinus infection. The first medicine the doctor gave him was horrible. He spit it right back at me. I had the doctor change it to something else....and this one is worse. It is torture to hold my kid down to get him to take it. Please, drug company CEO's.....don't you have kids.....make the meds taste better!! Ever hear of cherry or grape??
THREE.
I was putting the kids on the car the other day (coming out of the drug store to pick up Anthony's meds) and I had both car doors open as I was getting the kids in their seats. There was a women wanting to get in the spot next to me but my door was open. I signaled to her to wait just a moment. If looks could kill, I would be dead and not sitting here blogging! After she got out of the car I said to her that I just needed a minute to ge the kids in and I was sorry it took me so long. She told me I needed to hurry up and that I was being inconsiderate. I swear, I wanted to knock her out!! How rude can people be?? I said a few choice words to her, but would have loved to say more...but since I had the kids, I kept it under control. The thought of actually keying her car entered my mind. But I know I am better than that. All I know is that I hope I don't ever get to the point in my life where I become that miserable : )
Have a great day...