Happy Cyber Monday everyone! I am sure that blogland is going to be S-L-O-W today because everyone is shopping : ) I hope everyone had a great holiday weekend. I know we did. Now, on to some random musings.....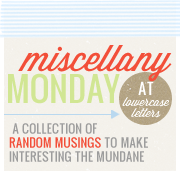 ONE.
I will start off telling you that Thanksgiving was hectic, fun, long and that I think I gained 5 lbs. this weekend. I played hostess to my hubby's family...I pretty much cooked everything. Boy, hosting is alot of work. It takes 2 days to clean your house, hours to prepare and cook and then hours to clean again after everyone leaves. All for 5 hours on Thanksgiving Day. I would not change it though. Spending time with family and making memories is all worth it. I was too busy to snap some shots. Here is all I got....
The boys waiting for our guests to arrive...
My turkey (my FIL was just starting to cut it, so don't mind the torn skin)...it looked good when it came out, I swear!
Anthony and I at the end of the night.....hot, tired, stuffed and ready for bed!
TWO. As happy as I was at how nice Thanksgiving turned out, I was even more ecstatic about my nails. Remember I told you that I took off my acrylics last week and got the gel laquer??? I am in love. My nails are usually very weak after taking off artificial nails and I would have to use products for months to get them back to healthy. I had acrylic on because the polish chips in a day on natural nails. Well, this is not the case with gel laquer. The process took a little longer than I thought, but it was well worth it. After cleaning, cooking and everyday dish washing....there has not been one chip in my polish in a week!!
Wow...these pics make my hands look stubby....LOL!
THREE.
I do not know if everyone is aware of a great website where Santa sends your kids a personlized email. Yes, I know, Santa is emailing these days. It is called
http://www.portablenorthpole.tv/
. We did it last year and again this year. You plug all of your child's info into the sheet as well as upload some pics. It takes a few minutes but it is well worth your time. Christopher was over the moon when he opened his over the weekend.
FOUR. One more thing while we are on Santa. What do you tell your kids as far as presents and others are concerned. I mean, does your child think that Grandma and Grandpa buy him presents on Christmas too? Or does Santa leave presents at their house for your child?? I am not sure what I should be telling Christopher. I want him to learn the spirit of giving and us buying things for others, but is he going to get confused??